Teaching Development Grants – Co-Investigator
1) HKU Faculty of Medicine – Biochemistry – using the virtual environment to create student training simulations for interviewing patients and doing experiments on lab benches.   Example videos: Patient interview, Lipoprotein experiment
PI: Dr. Joanna Ho, University of Hong Kong
Co-Is: NS Wong, Brant Knutzen
2) HKU Faculty of Medicine – Pathology – using the virtual environment to create a self-accessed training scenario for using lab equipment safely.  Example video: Fire Safety
PI: Prof UI Khoo, University of Hong Kong
Co-I: Brant Knutzen
Teaching development studies for Biochemistry and Pathology are currently being developed in the virtual environment of Second Life on "HKU Medicine Island".  These studies seek to supplement classroom instruction by blending in experiential learning in an immersive environment.  The Moodle LMS platform is used to set the context, define the problem for inquiry-based learning, launch the virtual environment, and debrief the students using quiz and discussion activities.  We are also exploring the frontier of medical simulation training using the Unity3D virtual environment.
General Research Fund study – Co-Investigator
Critical Investigation of Stage-to-screen and Screen-to-stage Adaptation Discourses: An Analysis of Key Terms and Practices
PI: Dr. Mike Ingham, Lingnan University
This project seeks to explore an under-theorised area: namely the interface between film and theatre studies and the intersection of the two disciplines and practices in the form of intermedial adaptation.
Objectives:
To explore the interface between film and drama concepts and practices
To compile source data and a corpus of materials that will further adaptation/ intermediality studies
To interrogate, determine and evaluate key terms and concepts in intermediality studies
To investigate critical issues concerning the interaction between dramatic form and content and cinematic form and content in relation to the key words and concepts
To analyse and document theoretical and practical insights and implications in the work of directors of theatrical and filmic productions (critical director's theatre and auteur cinema)
To develop a critical genealogy of film and theatre theory and critical practice as having evolved over the past century to its present-day position
To create an inventory/anthology of critical writings and a glossary of terms/ concepts in preparation for publication/dissemination
To transform this inventory into a website on drama-cinema keywords and concepts to be used as an academic/public access dissemination facility
Test use of auto-link feature of Encyclopedia WP plugin for Lexicon / Glossary terms: Actor/Acting and Aesthetics
Consulting
Lingnan Digital Literacy project – a grant-funded project exploring the application of the virtual world to training students about digital literacy.   As part of this project, a full region called Lingnan Drama Island in Second Life has been developed as a medieval village called Camelot.   Students start with the Quest, a 10-step hunt following riddle clues, to explore the sim and learn the basic navigation and user interface skills.
This build was selected by the 2016 Virtual Worlds Best Practices in Education conference, in the Immersive Experiences track!
s
Another area I have explored, as part of my collaboration with Beth Ritter-Guth at UCC, is the integration of Aurasma augmented reality with Second Life.  I can't take much credit beyond hosting Beth's in my castle within the Camelot build!  Here is a screen capture of the castle attic where the Aurasma icons are displayed.  SL visitors can open the notecard explaining how to interface the Aurasma app using their smartphone, and then the movie clips play when focused on the icons!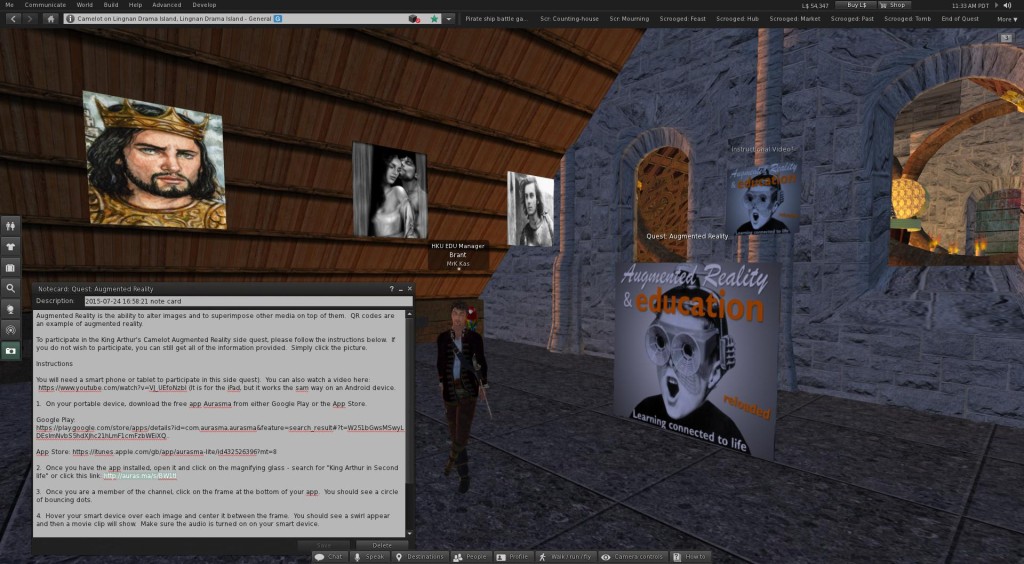 On HKU Education Island I have worked with three partners to create a winter wonderland celebrating Dickens' classic Victorian tale: A Christmas Carol!
We have recreated eight pivotal scenes in a snowy winter setting to bring this classic Victorian literature alive as an immersive experience, a sort of "3-D graphic novel".
The interactive journey begins with Scrooge's "Bah humbug!", moves to his fateful visit from Marley's ghost, and then visitors can explore key scenes from Past, Present, and Future Christmases.  Click on the characters to hear what they are thinking!
This build was selected for presentation by the 2016 Virtual Worlds Best Practices in Education conference, in the Immersive Experiences track!
Academy of Medicine – developed a Virtual Tour of their new Innovative Learning Centre for  Medicine (training using simulations – 6 minutes):
There are a lot of terms relating to "virtual", and this is my exploration of a Venn diagram to delineate the various conceptual domains: